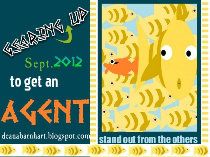 Me Doing Me!
Well now, I guess I'm in the thick of it, eh?
My name is Rich B. Knight and I just turned 29 (So I'm still not 30! You can't take that away from me! No one can!) I teach English in an urban school during the day and when I get home, I read and write before I go to the gym. I do that every weekday without fail. It's a routine.
I write articles for online sites and also work on the sequel to my book, The Darkness of the Womb, which is called Traipsing. I'm a recently married man and I'm enjoying the life so far. Annnnnd that's about it.
-Where do you write? On my living room couch, even though I have an office upstairs.



-Quick. Go to your writing space, sit down and look to your left. What is the first thing you see? A whole bunch of presents for our wedding that we have no place in our small apartment to put. They almost reach the ceiling. I'm not even joking.


-Favorite time to write? I'm not too fond of writing at any time, really. I know I have to do it though, so I do it.


-Drink of choice while writing? Orangina.


-When writing , do you listen to music or do you need complete silence? I usually listen to soundtracks, like the There Will Be Blood score or Apocalypse Now. I also enjoy video game soundtracks. Progressive rock is good, too.


-What was your inspiration for your latest manuscript and where did you find it? I got the inspiration for my book from an episode of The Sopranos where Tony was shot and in a coma, and he lived this whole other life within a hospital bed. That, and an old comic book called, The Maxx. There was a lot of philosophy in that comic.


-What's your most valuable writing tip? Always write, even if you don't want to. Force your brain to get moving. The best work comes out of you when you're least expecting it.
And that's me. Looking forward to learning about you.